Herringbone pattern has been in vogue for decades. And up to date, this unique pattern is still maintaining the first position when it comes to tile pattern that people wants to see covering their walls and floors. However, there are many places where one can install this lovely pattern. Over the years, we've seen how people have been created using this herringbone tile pattern for interior and exterior decorations. Hence, we will be focusing on things to be done before designing a bathroom with this great pattern. In Sydney today, people are trying to make their bathroom a place of exceptional comfort, and they are all achieving that by installing herringbone tile in their bathroom. Not only in homes in Sydney will you see a herringbone pattern in the bathroom. It is the most-used pattern in offices as well.
However, research also shows that installing a herringbone tile pattern in the bathroom will be a great choice because of its high level of water resistance. With that said, this article will provide a guide or tips for designing a bathroom with a herringbone tile pattern. But before we move further to the details, let us begin with the benefits of installing a herringbone tile in a bathroom.
What are the benefits of installing herringbone tile in a bathroom?
Installing herringbone tile in the bathroom is good because it has a high level of water resistance. Water doesn't penetrate the herringbone pattern easily, unlike other designs. Not only that, when a bathroom is being decorated with tiles in a herringbone pattern, the bathroom will be subtle and bold. Although, it depends on the color of the tiles. Also, if the space in the bathroom is reasonably narrow, then the best tile pattern should be herringbone. Laying a herringbone pattern in the bathroom will make the bathroom to be wider than before. The arrangement and the shape of the tiles can make stylish and subtle tiling features. Therefore, a herringbone tile pattern will be a great choice to create a traditional bathroom. You can read about How to Make Use of Herringbone Tiles in Your Home Improvement Project by Clicking here.
What are the Color combinations of tiles that will fit in the bathroom?
Honestly, one needs to pay rapt attention to this point. This is one of the ways to create something different and unique with herringbone tile patterns. What are we saying in essence? Do you know you can work towards combining two colors of tiles to create a herringbone tile pattern that will look stunning for bathrooms? Of course, one can combine tiles with black and white, purple and lilac, indigo, and navy blue to form a herringbone tile that will be an outstanding one. Other colors of tiles one can combine include cream and chocolate, gold and silver, deep grey and light grey, and so on.
However, having known some colors of tiles one can combine to create a lovely herringbone pattern, we will move straight to tips for designing a bathroom in a herringbone tile pattern.
Get other materials that will enhance the beauty of your work: Before installing herringbone tile in a bathroom, it is expedient for you to get additional materials that will bring out the beauty of your work. For instance, you want to use a subway tile to form a herringbone pattern to cover walls in the bathroom for a client; you should try and suggest the colour of paints to be used that will merge the colour of tiles you want to use. Or else, it may lead to colour riots. Not only that, other materials will bring out the beauty of laying herringbone tile patterns in the bathroom. Those materials include; mirror, shower door, cabinetry sink and some other materials.
Ensure that you start the installation process from the centre point: You don't start installing herringbone tiles anyhow. This unique pattern requires following some specific rules if one wants to achieve something great. Ensure you know the centre point of the wall or floor in the bathroom before laying the first tile. However, don't forget that the first tile must be applied at a 45-degree angle before you continuing installing other tiles to rest on it. Countless tilers in Sydney know that one must begin from the centre point to start installing herringbone tiles. Therefore, one must start from the centre point to have a well-fitted herringbone tile in a bathroom.
Make sure you drill necessary holes properly: When you want to install a herringbone tile pattern in a bathroom, you may likely dig holes into the tiles to solve pipes, drainers or tap connection finishings. You can use your drill kit to cut holes of different sizes through the tiles you are using to create the herringbone tile pattern.
Avoid using broken tiles: Every tile in making a herringbone pattern has a uniform measurement. The tiles are always in rectangular pieces with the exact size. That's why we advise tilers around us to order tiles that will finish the project. Once you use a broken tile as part of the tile to build up your herringbone pattern, you want to scatter the whole process. It would be nice to add up to 10 per cent of the original tiles to complete the bathroom, in case you need to do more cutting. Therefore, avoid using broken tiles that are not up to the exact measurement like others.
Use grout colour to tie in different elements: Initially, using dark grout between the herringbone tile pattern is a good choice. Although, the colour of the grout to be used at times depends on the colour of tiles used to create the herringbone pattern. For instance, a dark grout can fit in a bathroom whereby the combination of tile is black and white. That's if two colours are being used.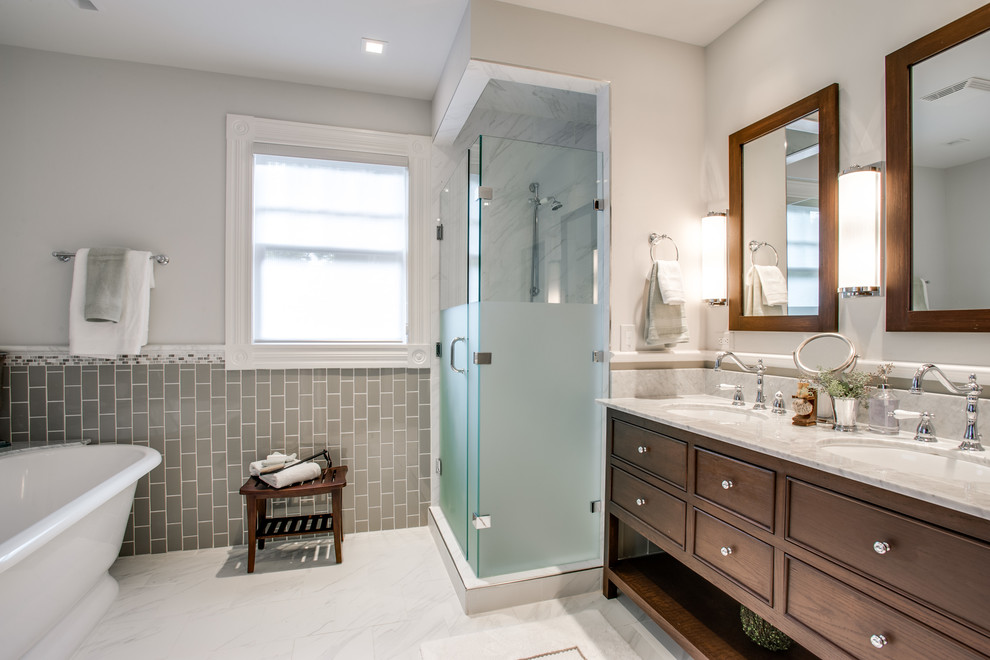 CONCLUSION
You can go ahead and install a herringbone pattern in a bathroom. Now, you have all it takes to start. We highlighted five tips to follow in designing a herringbone tile pattern in the bathroom. Not only that, don't forget we started this write-up by showing some benefits of installing this unique pattern in the bathroom. That's the reason why almost everyone in Sydney would like to see this lovely pattern in their bathroom. Visit https://www.measuresquare.com/tile-layout-design-software/ to read about designing software for your herringbone tiles pattern.